At Ziplunch we simplify meal ordering by providing weekly curated menus, delivered at takeout prices with no delivery fees.
Quite a bit of thought goes into curating our daily menus for each upcoming week. It is a balancing act of catering to a diverse range of taste palettes and trying to determine food preferences on a daily basis. We try to incorporate different cuisines to provide a wide range of choices and always aim to list authentically local establishments.
So every week, our "menu curator extraordinaire" sets the daily lunch and dinner choices for the week. And true to our motto of keeping things simple, we try to limit up to 8 item choices per restaurant. Each day features two to three restaurants for lunch and the same goes for dinner.
Every Saturday, the full menu for the week is sent out. Customers can either order for the entire week in advance, or on a day by day basis.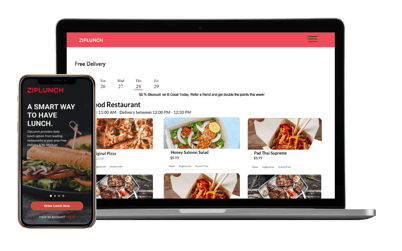 With busy work days, we have noticed that a large portion of our customers are ordering their meals for the entire week in advance. By receiving the weekly menu over the weekend, they are free to browse, plan their daily meals knowing exactly what time their meal will be delivered and not have to think about it for the rest of the week.
For those opting to order their meals on the day, there is a restaurant cut-off time for last orders for both lunch and dinner, and a delivery window of when your order will arrive.
For both order options, an order notification is sent out on the app and by email.
Once the driver is enroute, a notification is sent out, for order pickup from a designated hub inside the building or office, or meet the driver outside for curb-side pickup.
We are always incorporating new and exciting restaurants based on suggestions we get from our customers. So, if you have a favorite restaurant in mind that we don't currently serve, drop us a line.